Superior performance combined with design elegance:
We offer a modern interpretation of the traditional tatami mat.
Migusa is a new type of tatami developed by Sekisui that delivers modern-day functional performance while retaining the authentic texture and feel of all-natural mat rush.
Migusa is a unique product made from traditional mat rush together with a specially developed plastic containing inorganic calcium. The mat rush delivers the authentic texture and feel of tatami matting while the plastic component enhances durability, improves product safety and allows greater flexibility of design and colour schemes.
Point 1.
Maintains its appearance

Point 2.
Easy to keep clean
Migusa boasts virtually 100% stain resistance and is easy to keep clean compared to conventional mat rush tatami.
Point 3.
Durable and long-lasting
Migusa fiber lasts far longer than conventional mat rush, with minimal degradation over time and excellent resistance to common problems such  as strand splitting. Product replacement intervals are therefore much longer.
Point 4.
Clean and hygienic
Health benefits from improved resistance to mold and mites: A surface used for everyday activities such as sitting and folding clothes should be clean and hygienic. Migusa boasts improved resistance to mold and mites and is recommended by the Japan Atopic Dermatitis Patients Association.
Point 5.
Non-toxic
Migusa does not contain any substances associated with Sick Building Syndrome:
Migusa does not contain or emit any Sick Building Syndrome substances. It is totally free of formaldehyde, considered a major indoor pollutant.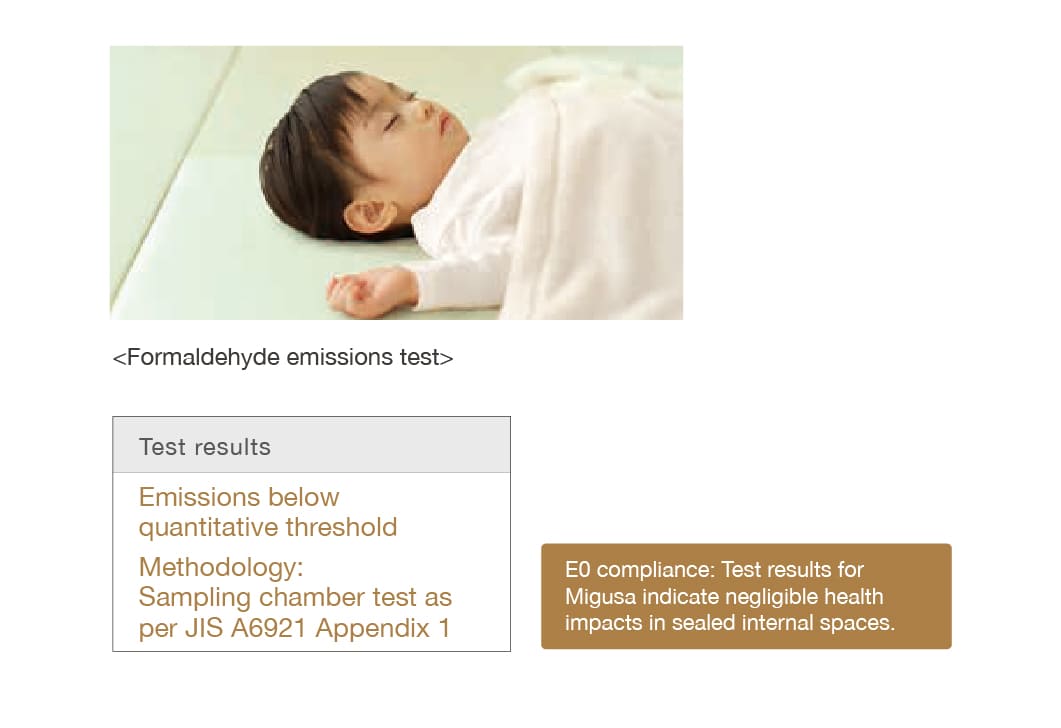 Point 6.
Supportive
Migusa cushions the feet while providing a sturdy non-slip surface—ideal for children and elderly people.
Migusa has the same sponge-like structure as conventional rush mat, offering support underfoot as well as cushioning in the event of a fall.